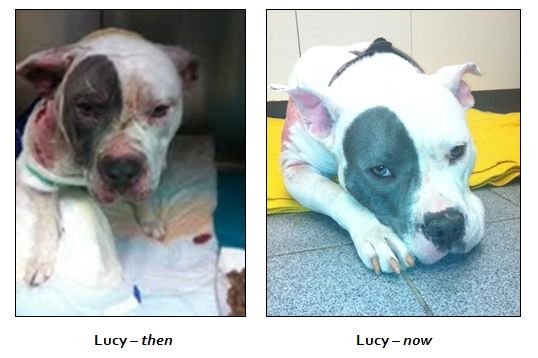 There's been so much progress in dear Lucy's recovery since the last posting here! Just compare the two photos above, and you'll see how far she's come -- thanks not only to her own amazing strength and spirit, but also to the outstanding medical care she's received, the love and attention of her doctors and technicians and OPIN volunteers (most notably Co-President Ali Girardi, who visited her virtually every day), and the spiritual and financial support of people from literally all over the world who've devotedly followed her heartwarming story.
Currently Lucy is being fostered in the loving home of Kelli and Kerri, two sisters who cared for her throughout her recovery at VCA Veterinary Referral and Emergency Center in Norwalk, Connecticut. These dedicated and compassionate professionals grew to love sweet Lucy as they tended to her physical and emotional needs throughout her recovery, and, just as important, Lucy grew to trust and love them too. With the occasional visit to Ali's house to hook up with "Ali's zoo" (including four wonderful dogs who always welcome Lucy with exhuberance and camaraderie), our little champion finally is living the good life she so deserves.
What could have been just another tragic horror story of animal abuse or neglect -- of which, sadly, there are far too many -- is turning out to have a very happy ending. Thank you to everyone who said a prayer, shed a tear, called or wrote or emailed to express concern and support, made a contribution, or shared this story to raise others' consciousness about the proper respect for, and treatment of, all pets. PLEASE, don't become complacent just because Lucy's story is concluding so favorably; rather, remember that there are millions of other Lucys out there, pets whose stories may or may not be as dramatic as hers, but whose needs for loving homes are just as great and just as urgent. If you have room in your heart and your home, please consider adopting a homeless pet.

WE ALL LOVE YOU, LUCY ! ! !